Players in Dead Island 2 must survive a zombie apocalypse, and finding the greatest melee weapon is critical, thus these are the top selections.
Dead Island 2 is all about slaying zombies, and like any good zombie apocalypse game, players must employ a range of combat weapons to keep the undead at bay. With some of these weapons being considered extremely unorthodox while others are likely to brutalize some zombies, gamers have a plethora of alternatives as well as weapon kinds to explore with.
Mods and perks have a tendency to improve these weapons. However, for the purposes of this article, these weapons are simply graded based on their basic usefulness, which takes into account how swiftly they swing or how easy they are for the player to utilize in combat.
Golf Club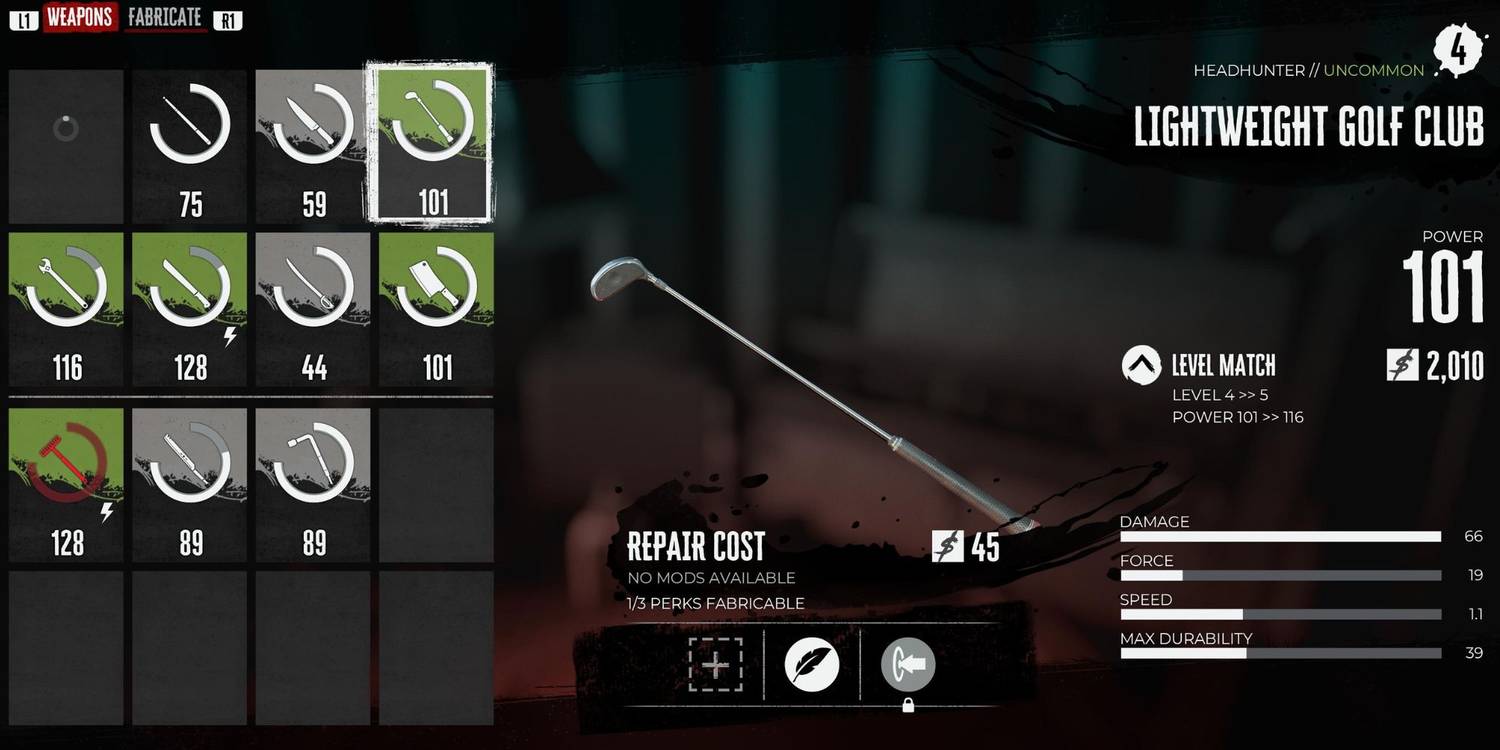 The Golf Club is a Headhunter melee weapon that demands a strong swing off the golf course if players want to deal the maximum damage to a zombie's head. Golf Clubs offer a significant amount of damage and a little force to them, though players wielding Headhunter weapons are more likely to be seeking to instantaneously kill an opponent rather than knocking them down.
While the golf club is a fantastic weapon, some players may struggle to aim for a zombie's head due to its size in comparison to other Headhunter weapons.
Cleaver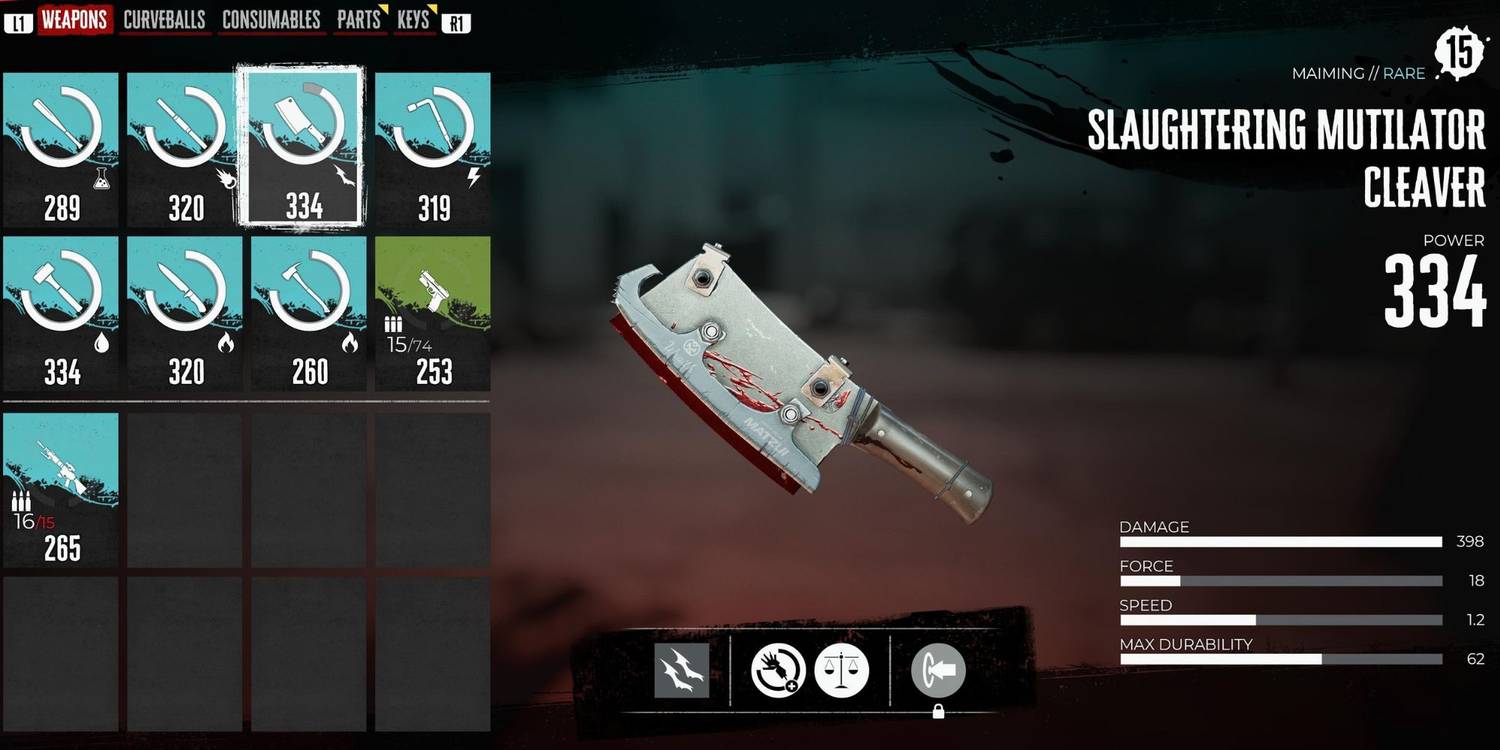 Maiming zombies is by far one of the most beneficial aspects in the game. Therefore focusing on weaponry that can easily achieve this is a path that many players are likely to choose throughout the game. As a result, many of the best weapons in Dead Island 2 fall into the maiming category.
Cleavers cut quickly and easily through the limbs of the zombies players will fight. Not to mention how prevalent they are, so players are bound to uncover one with considerably superior stats than the last one they discovered.
Claws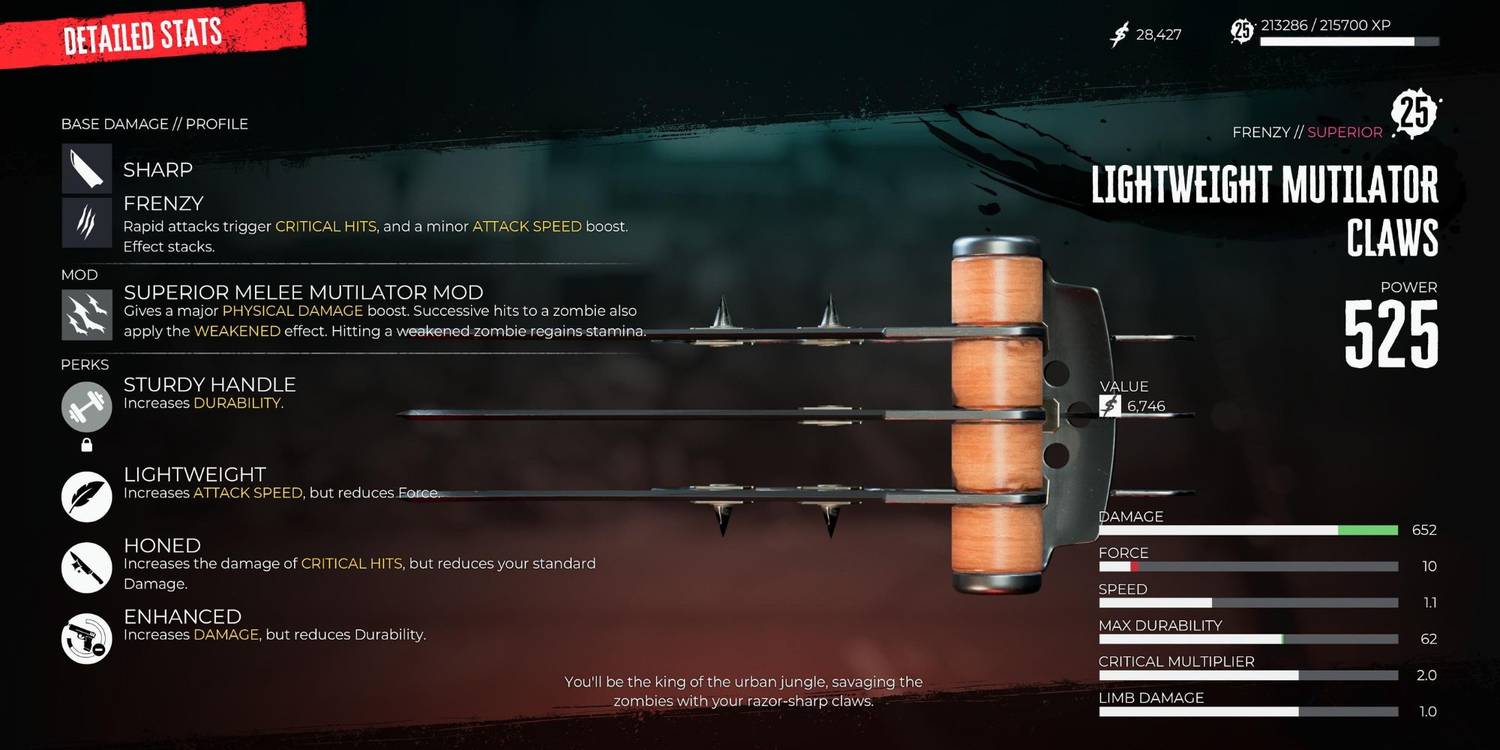 Frenzy weapons in Dead Island 2 are quite hit-or-miss depending on the situation the player is in. There are numerous Frenzy weapons available. But only a few of them necessitate the speedy killing of adversaries.
Metal Claws and many other fury melee weapons, unlike other weapons in the game, do not require much accuracy to wield, allowing players to slash wildly at zombies as if they were Wolverine. Due to the low Force of these light slashing strikes, Claws are less likely to bring down an enemy. So players should try moving around their target to avoid being struck.
Metal Bat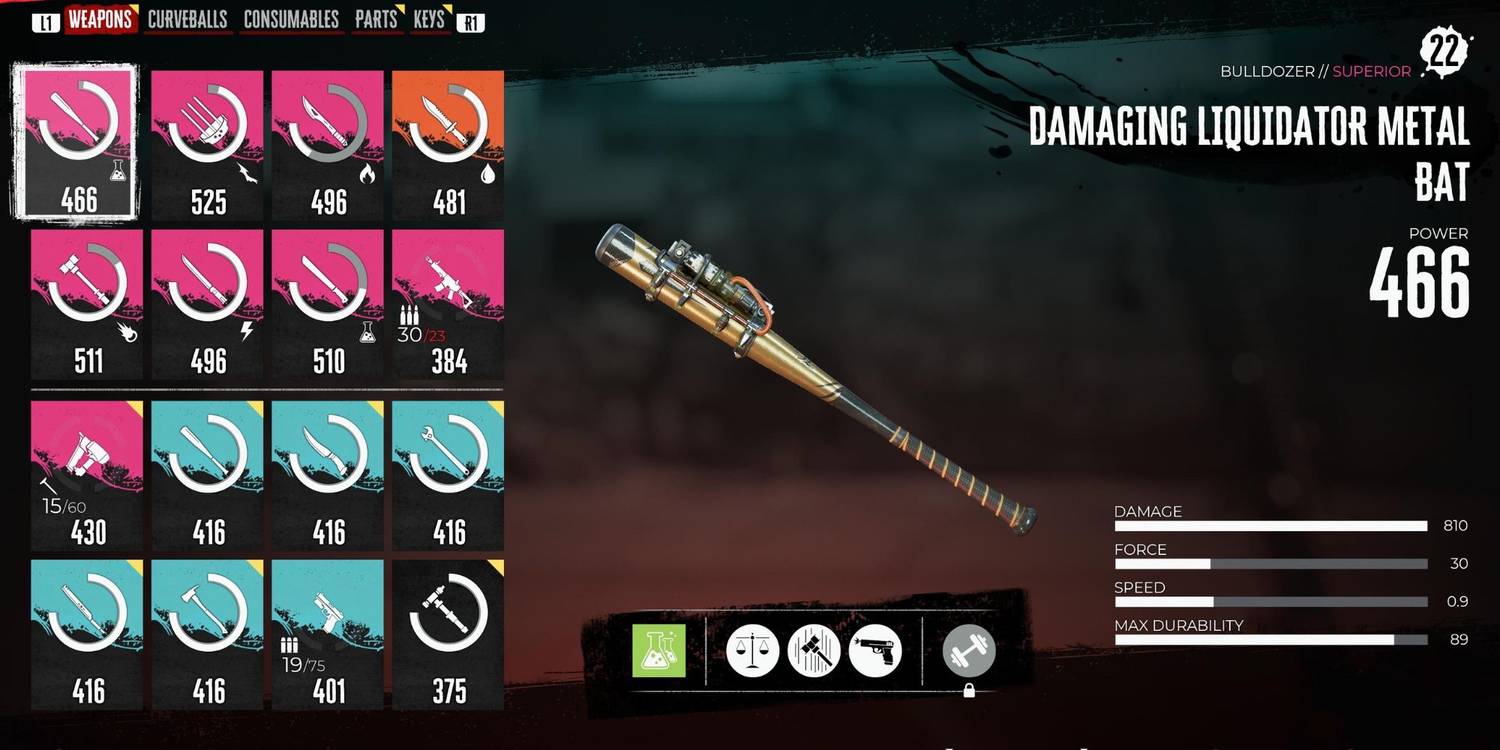 Bulldozer weapons are ideal for players looking for weapons that not only deal a lot of damage. But also hit with a lot of force. The Metal Baseball bat is an excellent choice for players who believe that these hard-hitting melee weapons swing too slowly.
These bats, particularly the metal ones, are also quite resilient. Thus players will be less likely to need to repair them on a regular basis after exploring a section of Hell-A. While this article does not focus on weapon mods, metal bats offer a lot of potential with different mods and perks to make them even more vicious.
Katars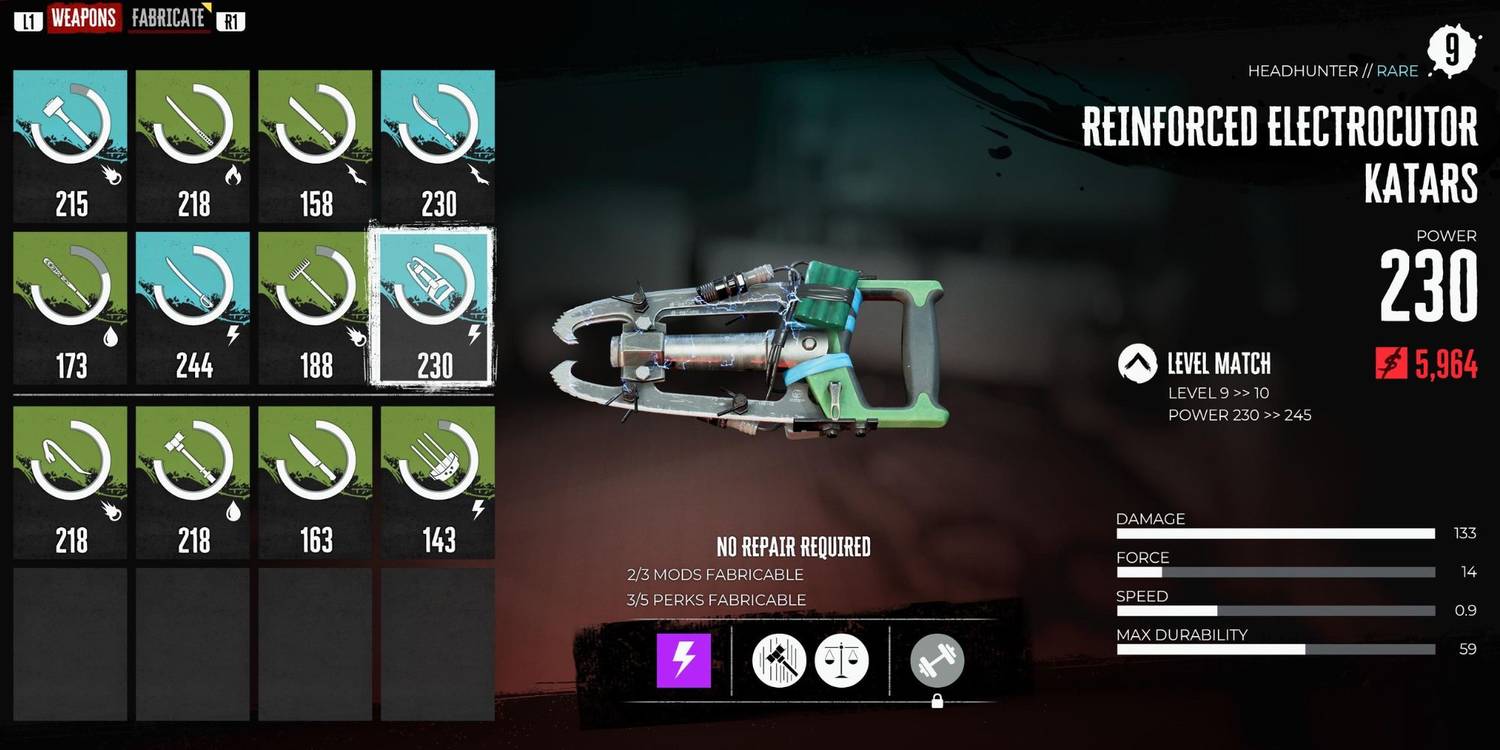 Claws aren't the only armament that makes the player feel like they're punching a zombie. As Katars' headhunter melee weapon can also inflict some severe damage up close. Unlike the golf club, Katars hit with a little greater force. However they are still not the greatest in this metric.
While the Katars may be slightly slower than the golf club. Players are less likely to become confused about where they are swinging because their hands are controlled. These zombies can also be dealt with fast by a single strong Katars strike. Making them considerably more devastating.
Pickaxe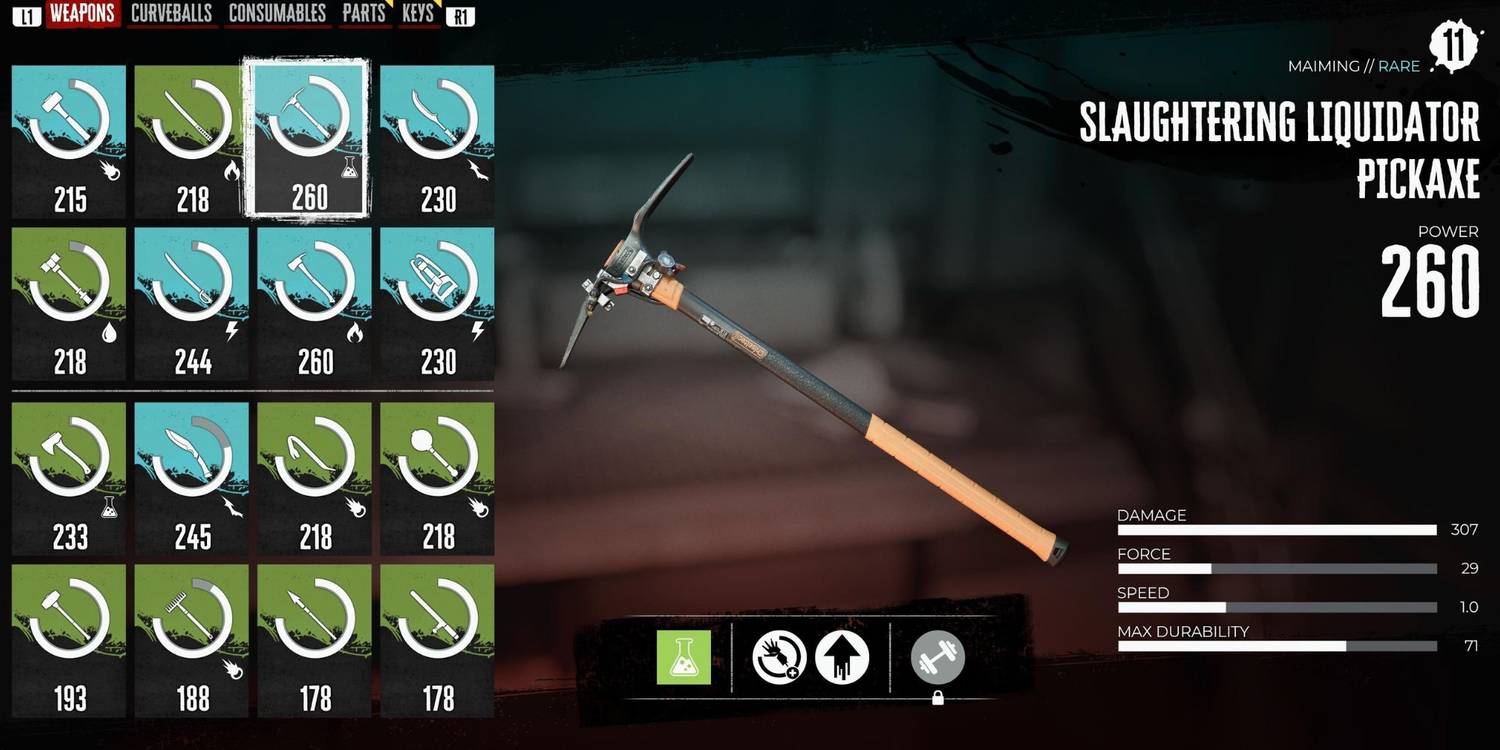 While headhunting larger weapons may be difficult to wield, these large and relatively sluggish melee weapons are really excellent for other categories, particularly ones that require maiming, such as the Bulldozer.
Swinging the pickaxe like a golf club, aim it at the legs of Walkers to quickly snap the limbs from underneath them. Because these zombies can only crawl, they are much easier to deal with. This, paired with the pickaxe's strength, means that even if a player is unable to maim a zombie. They are still likely to knock them down.
Wakizashi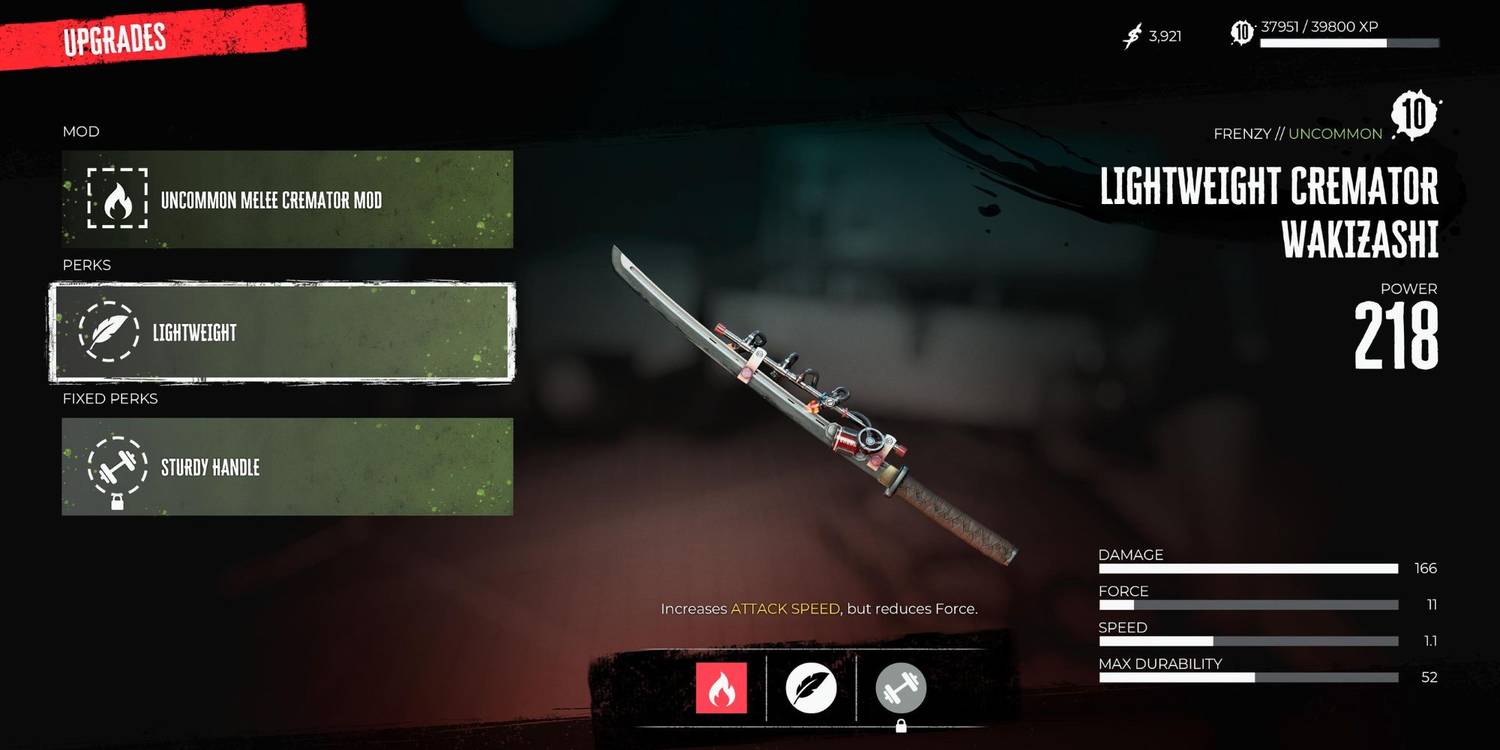 While the claws are a wonderful alternative for speed and lethality. The fatal Wakizashi is a frenzy weapon that players will want to maintain and level up throughout their trip. While this weapon impacts at the same pace as the claws, players may find the Wakizashi easier to wield. Because it is handled similarly to the standard machete or other simple melee weapons in Dead Island 2.
Aside from that, the Wakizashi appears to be a rare find when compared to other frenzied weapons. So players should at least try the short Katana-like sword before putting it in the storage box.
Improvised Hammer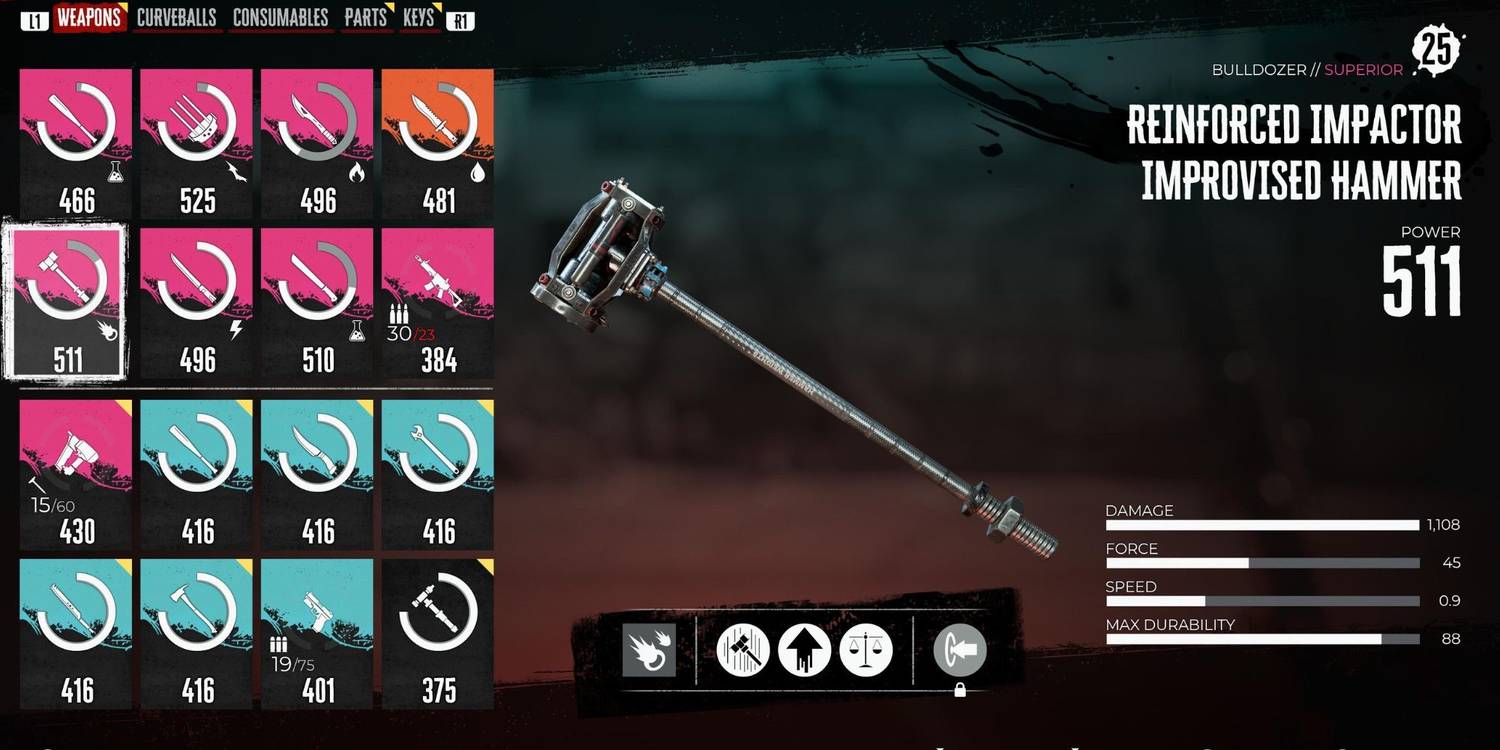 The Improvised Hammer is by far one of the best bulldozer weapons in the game. Although it may appear that it wouldn't stand a chance with the word "improvised" in its name. This metal pipe with a hammer-like metal head on it is sure to effortlessly wipe out groups of zombies.
Surprisingly, this hammer isn't even that slow to swing. So players don't have to worry about leaving themselves vulnerable to many strikes while attempting to hit. Furthermore, the Improvised Hammer has an incredible force stat. So every hit is likely to push a bunch of zombies to the ground before it becomes too dangerous.
Blood Rage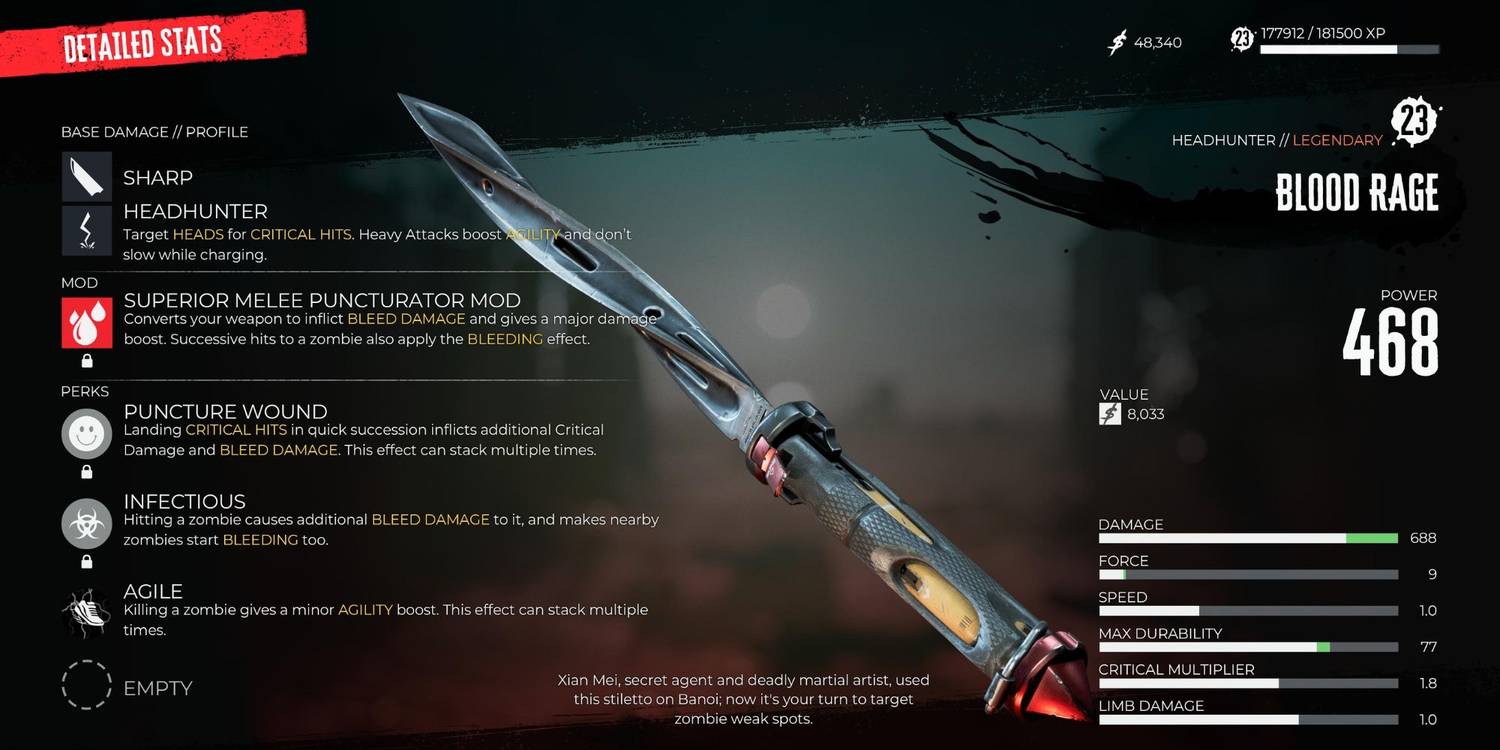 While legendary weapons have yet to be addressed, it would be remiss not to mention Xian Mei's renowned weapon from Dead Island and Dead Island Riptide. Blood Rage is also one of the finest Headhunter weapons in Backrooms game, allowing players to easily deal with Walkers as long as they can charge up a killing strike to the head.
Aside from that, Blood Rage deals enormous damage at a reasonable speed and has perks. That are immediately applied to the weapon. One amazing perk is Infectious, which causes bleeding that affects not only the zombie being hit but also those nearby.
Machete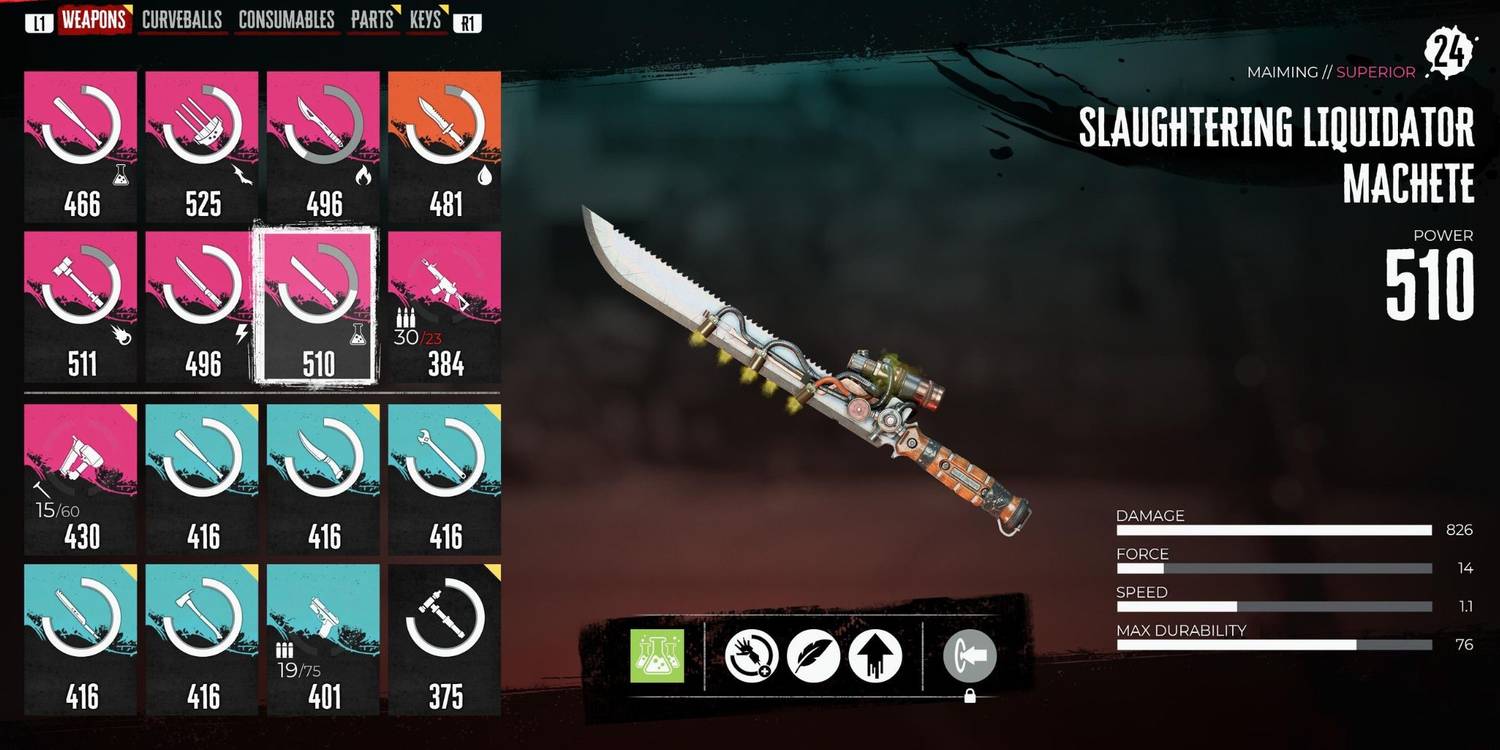 The most renowned zombie maiming melee weapon, the machete, is by far one of the greatest weapons players would want to have equipped at all times in their weapon wheel. Nothing compares to this terrible blade, which carelessly slashes through the limbs of zombies.
Players can eventually obtain the legendary machete The Brutalizer by completing all of the side objectives in Body Art. Which involve the player collecting various body parts for a dubious artist.
Dead Island 2 is now available for PC, PlayStation 4, PlayStation 5, Xbox One, and Xbox Series X/S.